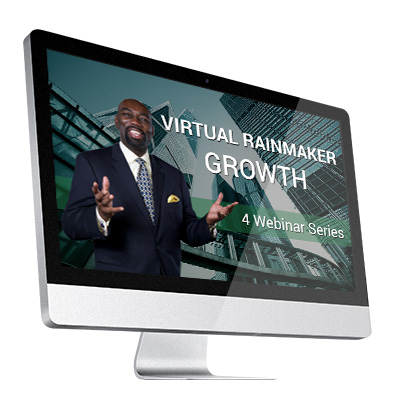 Virtual Rainmaker Growth
Quit Dreaming About Growing Your Business and Commissions … Make It Happen!
Your Keys to SIX-FIGURE Growth
Making This Your Best Year Ever!
Setting Goals for your Six-Figure Growth Plan
Everyone knows a storm produces the most rain, and Ed will walk you through creating the Marketing Storm you will need to set the stage for RAIN.
Making it RAIN – Part 1: Key Components of Winning New Customers
Building Rapport and Asking the Right Questions
Learn the 15 things customers grade salespeople on during their presentations, and how to incorporate them into your demonstrations. These first two components of making it RAIN begin the process of developing and qualifying your business prospects. Keeping that momentum going brings us to…
Making it RAIN – Part 2: Initiating Solutions and Crafting the Perfect Presentation
How do you close the customer and create long-term Storms for future rainmaking possibilities? Learn how to marry up your solutions to the prospect's challenges with "tie-down" statements. Discover how to close tons of business by validating your company, product or service, and you as a professional. Finally, bring it all together and get ready to go with…
Keeping Your Pipeline Full
You'll discover how to negotiate to win! In this session Ed explains the art of winning ducks, deer and dinosaurs (small, medium and large customers). You'll learn the action steps for achieving the more activity, more opportunities and more money.
BONUS SESSION – Makin' it Personal
You'll receive your own rainmaking profile as well as a one-on-one session with Ed "the Rainmaker" Robinson. Note also that you'll have access to these four webinars for one year, to follow up and reinforce all lessons and action steps.